Fiber Expo Spring 2014
Available Classes/Workshops
Saturday, March 22, 2014
Morning
#101 Nuno Felting - Sue Schalk - instructor, 9:00 - Noon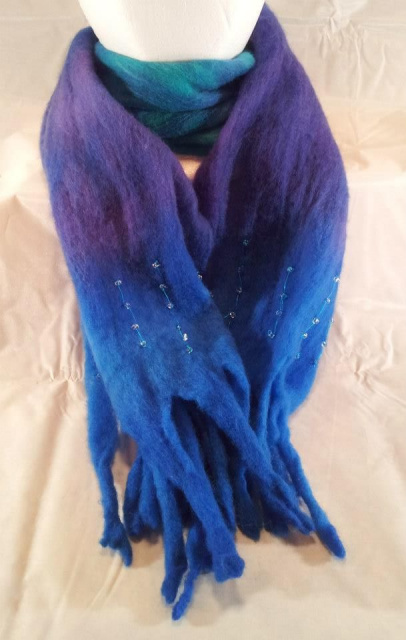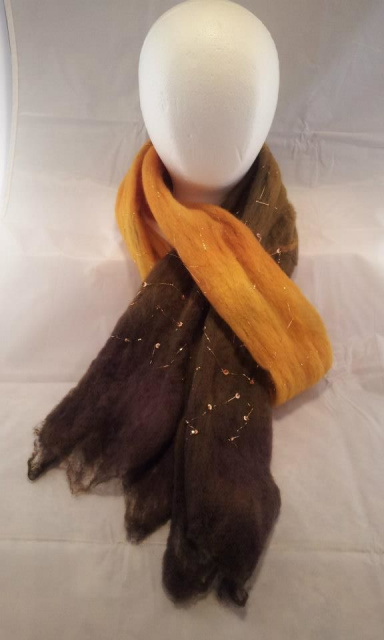 Cost: $65/student, all materials included.
Skill Level: Beginner
Requirements: Students need to bring a bath sized towel. Rubber gloves and an apron might be handy but are not necessary.
Description: Students will have the choice from several kits to create their one of a kind nuno felted scarf. The kit contains a silk scarf blank, several colors of merino fiber, silk, and other embellishments. Note: Previous students have said not to wear a low cut shirt as you are doing a lot of bending over.
Class Size: 6
#103 - Learn To Spin With a Drop Spindle - Kathy Moskal - instructor, 9:00 - 11:00 am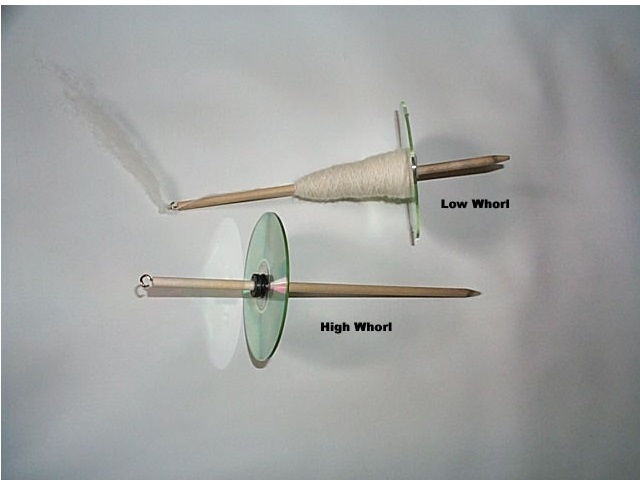 Cost: $45/student, includes all materials and the drop spindle.
Skill Level: Beginner
Description: - Drop spindles and roving are included for you to keep and will be supplied at class time. Using a spindle is a very economical way to learn hand-spinning for a beginner. Drop Spindles are inexpensive to buy (relative to a spinning wheel) and also very easy to make. Once you have mastered the spindle you will have learned the steps needed for spinning on the spinning wheel: drafting out fibers, twisting the fiber into yarn, plying, winding up and storing the spun yarn. This is a very relaxed class!
Class Size: 9
Afternoon
#204 - "Do The Twist" - Betty Forsyth - instructor, 1 - 4 pm
Cost: $55/student. Includes all materials.
Skill Level: Beginner/Intermediate
Requirements: You will need a spinning wheel in good working order, pad and paper for notes.
Description: The spinner deals with twist every time they spin. Learn how to take control of the twist in your yarn by understanding what the twist is doing behind the scenes. This technique class will give you the knowledge necessary to answer: "Why is it doing that" A simple explanation and technique to raise the bar in your yarn quality and consistency.

Class Size: 10
Sunday, March 23, 2014
Morning
#302 - Hand Painting Yarn - Kathy Moskal - Instructor, 9:00 am - Noon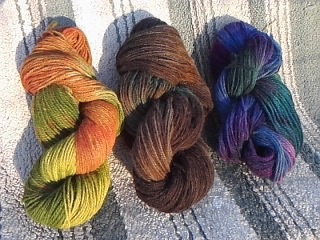 Cost: $70/student, includes all equipment and materials.
Skill Level: Beginner
Description: In this class we will learn different dyeing techniques to hand paint yarns using protein dyes to color animal fiber yarns in the microwave. Class includes tools, dyes and two 4oz skeins of Sock Yarn.
Please bring an apron, rubber gloves (like kitchen dishwashing gloves) and old clothes as they may get some dye on them. Instructor will also have disposable apron and gloves available.
Class Size: 8
Afternoon
#402 - Tool Basket - Kathy McMinn - Instructor, 12:30 - 3:30 pm
Cost: $60/student. Includes all materials.
Skill Level: Beginner
Description: - Weave this handy basket that will hold all your tools while you work. It is big enough to hold your scissors, pencils, needles or whatever you need to complete your current project, keeping them in a convenient spot. There is a dowel through the handle for a spool of thread. The basket has a filled in bottom so nothing can slip out. Many colors will be available to choose from.
Class Size: 8
If you are interested in teaching a class or workshop, please use the link below to sign up Today!!
Class/Workshop Proposal CLICK HERE
Fiber Expo, Highland, MI 48357
© Connie Hydel 2007 All Rights Reserved