Fiber Expo Fall 2015
Available Classes/Workshops
Check Back Frequently - Work In Progress
Saturday - October 24
Morning
#103 - Hand Painting Yarn or Roving - Kathy Moskal - Instructor, 9:00 am - Noon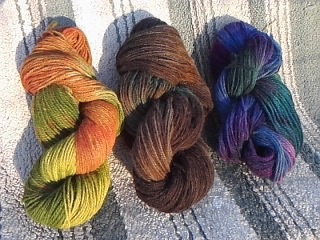 Cost: $70/student, includes all equipment and materials.
Skill Level: Beginner
Description: In this class we will learn different dyeing techniques to hand paint yarns/rovings using protein dyes to color animal fiber yarns in the microwave. Class includes tools, dyes and either two 4oz skeins of Sock Yarn OR two 8oz rovings of combed top wool.
Please bring an apron, rubber gloves (like kitchen dishwashing gloves) and old clothes as they may get some dye on them. Instructor will also have disposable apron and gloves available.
Class Size: 6
Afternoon
#203 - Nuno Felting - Sue Schalk - instructor, Noon - 3 pm
Cost: $50/student
Skill Level: Beginner
Class Requirements: Students should bring an apron and gloves if they want them for felting; and a plastic bag to take home their wet items.
Description: "As the agitation of a grain of sand in an oyster creates a pearl, so too the agitation of wool fibers into silk fabric creates nuno felt, a beautifully textured thin lightweight drapable fabric." Students will learn how to nuno felt a scarf. You can use the scarf you dyed in an earlier class or a pre-dyed silk scarf will be available for you to pick from.
Class Size: 6
Cost: $70/student, includes all equipment and materials.
Skill Level: Beginner
Sunday - October 25
MORNING
AFTERNOON
If you are interested in teaching a class or workshop, please use the link below to sign up Today!!
Class/Workshop Proposal CLICK HERE
· 1 ball of worsted weight yarn in a smooth, light color.
· Two sets of circular needles in size 7 or 8.
· A double point or circular needle size 2 or 3.
· Double point or short circular needles size 5 or 6.
· One set of circular needles size 10 or 11.
· A crochet hook in a size appropriate for worsted weight yarn, stitch holders and scissors.